Good afternoon from Sunny Somerset!
I'm Gemma, John's eldest daughter. My father moved to Press Mains 4 years ago, so when I go up to visit, the trips are my family holidays. I have four children, who are 7, 5, 3 and 1. The holiday cottages are great for us and we have stayed in Stewards Cottage (sleeps 4) in the past, but now stay in Castle Cottage (sleeps 6) as it is perfect for us as a large family. The cottages are so well equipped for children, with travel cots, high chairs, local childrens books and an extensive games and entertainment cupboard.
There is so much to do in the local area, that we never usually venture that far and still have a long list of things that we want to do and places we want to go on future trips, which will lead to further blog posts, I'm sure. So for now, I am going to tell you about our most recent trip (in early March) and what we got up to.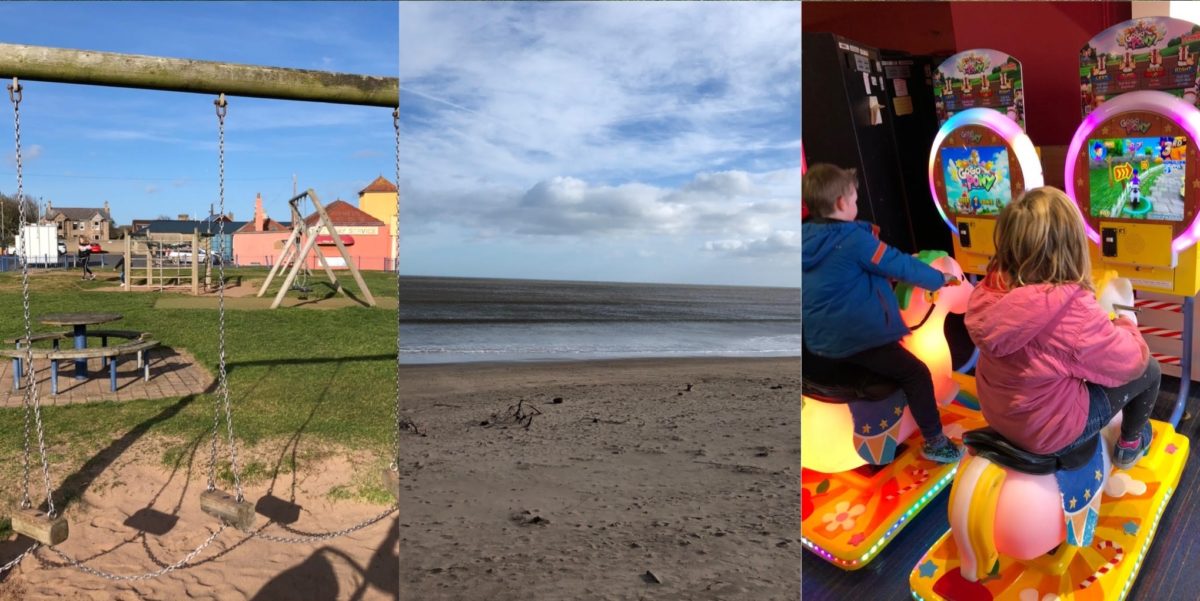 Spittal Beach
This is a beautiful sandy beach on the south side of Berwick. It took us about 20 minutes to get there by car from the farm. We started the day with a walk along the beach and esplanade, which has great views of Berwick, its walls, bridges and lighthouse. About half way down the beach there is a great play area for children. In the summer months this has a splash pad, which we will have to go back for. There is also a little arcade that the children enjoyed for a while.

Coldingham Bay 
This is by far our favourite beach in the Scottish Borders that we have visited to date. It is a really special place that feels like you have stumbled on a secret cove, which comes complete with clear tropical-looking waters on calm days. There is free parking just a short walk from the beach by the St Vedas Hotel. You then follow the track down the hill to the bay. The beach is sandy, edged with traditional coloured beach huts and with shallow waters, perfect for paddling with children. There is a lovely little beach café and toilets. For those more adventurous St Vedas run surf lessons and hire.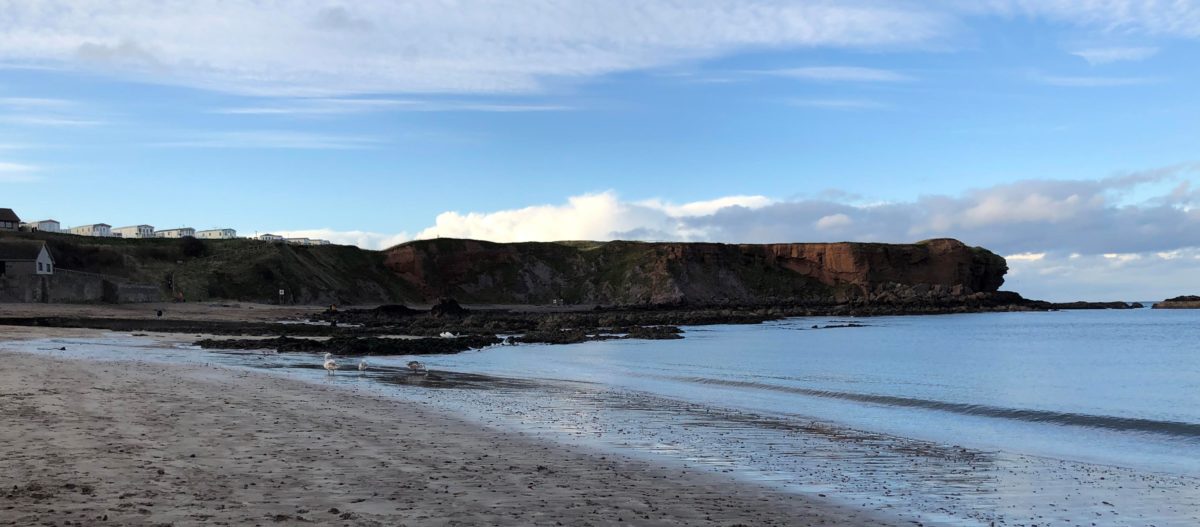 Eyemouth Beach & Ice cream
This is always a must for every trip, no matter how short.  Eyemouth has such a lovely beach, sandy at one end, with rocky outcrops at the other, which are great for rock pooling and are always full of so much sea-life. At the harbour end of the beach you will usually find seals, which at certain times of the year you can buy fish to feed, which is great fun. This time there were also two swans in the bay which looked absolutely beautiful.
The highlight for the children is always the visit to Giacopazzis Ice Cream Shop, which can be found beside the harbour – they always have so many delicious and tempting flavours. There are several car parks in Eyemouth, several of which are free.
Berwick Town Walls walk
On a particularly blustery day, we decided it would be a good idea to walk the town walls in Berwick. We parked in a central car park, went to the visitor centre to pick up a map (£1) and set off. Despite the weather, it was a lovely walk and easily achievable with the children. There are some spectacular views out to sea and of local landmarks, such as the Berwick Bridges and the lighthouse. The history boards found at various points on the walk were really interesting. This is a walk that you could easily make into a day trip by stopping for lunch somewhere or adding in a museum visit. Or it can be done in just over an hour if you want to burn off lots of excess energy.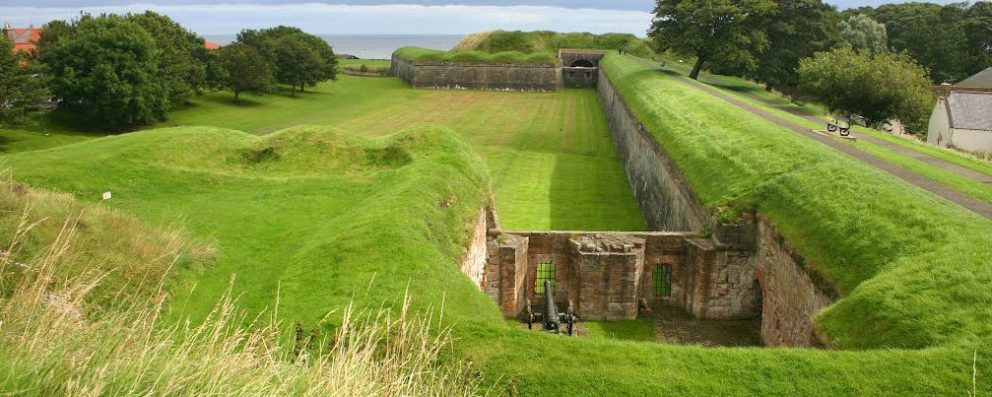 Exploring the farm
There is so much to explore and little walks that we can do that we did not feel the need to go out everyday. With games and activities available for use in the cottage and the well-fenced garden, this was enough to keep my little people entertained and use up their energy on certain days.  We love walking up to the big wind turbine and looking out to sea, or wandering down the farm drive to the bridge and playing 'Pooh Sticks'.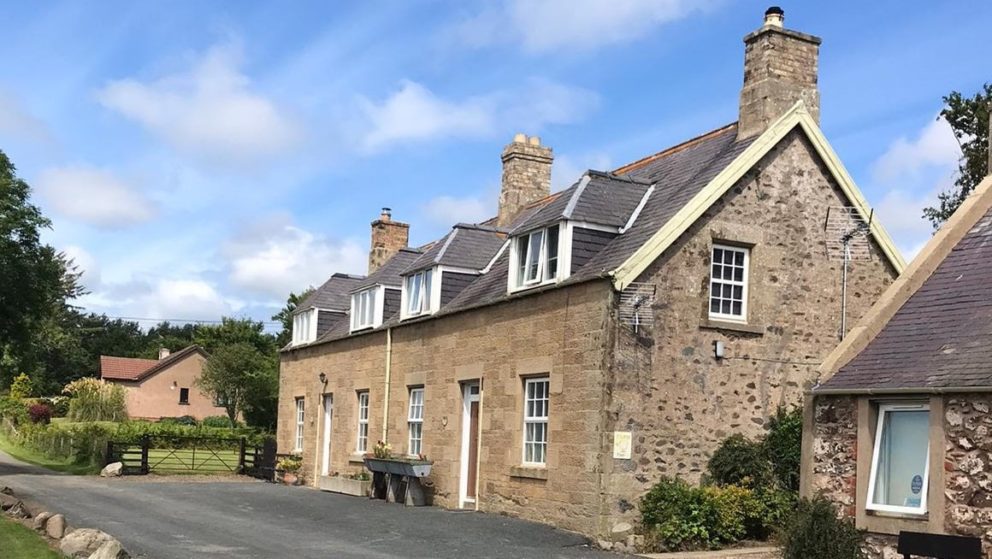 Now I am just looking forward to our next trip in August, which I will tell you all about on our return.